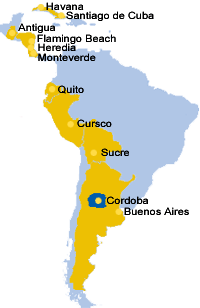 Argentina has a unique position among Latin American countries.
It is the country with the second-largest landmass in South America and the population mix (like Chile and Uruguay) is very different from the rest of Latin America. The 37.000.000 population is largely descended from Spaniards, Italians, Germans and other Europeans. A small percentage consists of mixed and indigenous peoples.

The country boasts an immense range of natural wonders, from the deserts of the north, the plains of the Pampas, the fantastic waterfalls of Iguazú and the Andean Cordillera mountain chain. No matter where you travel, Argentina has something special in store for you. For those people interested in skiing, Argentina offers some of the best skiing in the world.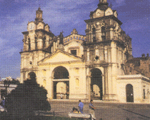 Founded in 1573, Cordoba is a city with a population of more than 2 million people. It is situated in the geographical center of Argentina and is known as the colonial capital of the country. Because of its proximity to the mountains, Cordoba is a perfect base for excursions into the natural beauty of the Andes, or even the Pampas 100 km to the south.

Although it was the Argentine

center of arts and learning before being surpassed by Buenos Aires, the city has few tourists and a mild climate, making it ideal for study. Beautiful Spanish cathedrals and buildings throughout the city and an impressive landscape made up of valleys, lakes and little rivers complement the city's independent spirit and grace.

Cordoba has grown significantly over the last decade, as many new industries have settled down. The construction of modern buildings, shopping centers and new neighborhoods has changed the appearance of the city somewhat Its culture, shopping, and active nightlife make Cordoba a wonderful destination for Enforex students.



Enforex Cordoba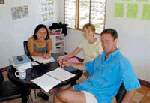 Our Cordoba school is located is downtown within close proximity to the city's shopping district. Classes are held in a 2-story building with 4 classrooms, a kitchen, a salon (for videos, etc.) and a roof deck with beautiful views of the city. Capacity is 40 students/day.




Programmes Offered

General Spanish Courses
20 or 30 lessons per week. Maximum class size: 5. The focus in class is mostly on grammar and conversation. Classes start Mondays year-round.

One to one lessons
The aim of this 20 lesson per week program is to offer a personalized method of teaching that is tailor made for the specific needs of the student. Classes are private.
Cordoba Accommodations
Homestays
Students are lodged in a private room with half board. Laundry facilities are available in the home or at local Laundromats. Most of the homes are located within a 15-25 minute bus ride from the school. All of the families are carefully selected. Most Buenos Aires families are young singles or couples, so students here should not expect a traditional host family experience.
Cordoba Excursions & Activities
Organized activities
Most common activities may include: Tango or folkloric class one day. Movie one day. Going to a bar with all students one day. Sometimes also lectures on art, literature, history, the economy, health, visits to museums, theater performances, etc. First Monday of each month: Welcome lunch for all currently enrolled students. Do not normally charge for these types of activities, but the student pays for own bus fare, entrance fees, drinks/food if eating out, etc. Conducted in Spanish. Travel companions not studying, but staying with a program participant may also participate. Intercambios arranged upon request.


Weekend trips
Normally an excursion is offered each weekend. Around $30. Excursion to Buenos Aires, Belgrano, Bariloche/Patagonia (skiing); Mendoza ($250); Iguazu Falls; Rio de Plata; Towns with indigenous population (Salta, Chaco, Jujuy). Argentina has an incredibly diverse terrain.

BIG BEN Language Studies
Külföldi oktatási programok szakértője 1991 óta
Telefon: (06-1)318-5732
Fax: (06-1)266-1754
E-mail