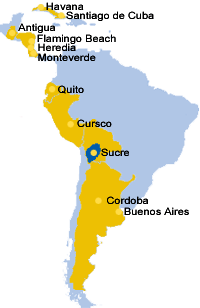 Bolivia is a land-locked country of approximately 8 million people that traverses the Andes mountains. Named after the Creole pro-independence figure Simón Bolívar, it is a country of mostly mestizo and indigenous people, with a phenomenal landscape. Sucre is the judicial capital of Bolivia. It is known as the white city of the Americas, as the buildings preserve their white paint from the colonial era.



There is an abundance of colonial charm in this unique city founded in 1538 as "La Plata." Declared a "Patrimonio Histórico" by UNESCO, this city has preserved its colonial Spanish roots visible in everything from the architecture of the two Universities, the layout of tree-lined main plazas such as the Plaza de 25 de mayo and numerous churches. With a tranquil population of approximately 17.000 people, Sucre is the ideal place to visit for students interested in Andean and colonial culture.



Enforex Sucre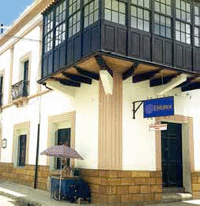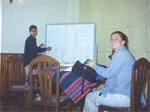 Our school is located in the heart of Sucre's city center, one block away from the main plaza close to virtually everything of interest within the city. Classes are in the morning or afternoon (mainly during high season). The school is a 2-story building with 8 classrooms, kitchen, a salon (for videos, etc.), a nice colonial patio and a small terrace.


Programmes Offered
General Spanish Courses
20 or 30 lessons per week. Maximum class size: 5. The focus in class is mostly on grammar and conversation. Classes start Mondays year-round.
One on one
The aim of this 20 lessons per week program is to offer a personalized method of teaching that is tailor made for the specific needs of the student.
Sucre Accommodations
Homestays
Living with a selected host family in Bolivia will enable the student to see and learn everything about the Bolivian lifestyle with first hand experience of Bolivian culture and traditions. Host families have been carefully chosen for this purpose and to ensure that students have a pleasant stay in Bolivia. Students are treated as family members. Students are offered a single room with half board (breakfast & lunch).
Sucre Excursions & Activities
A wide variety of extra curricular activities are offered to all students. Some activities are free while others may require
a fee. Some examples of activities are:

City tour, movies, going away party some Fridays, tourist info, games, small lectures. Trips in/near Sucre most common destinations: museums, indigenous markets, dinosaur tracks, archaeological sites, hiking, etc.

Trips to places outside of the city most common destinations: archaeological sites, man made "lagoons", natural thermal baths, churches, mountains, hiking, etc. Cooking and dance class.