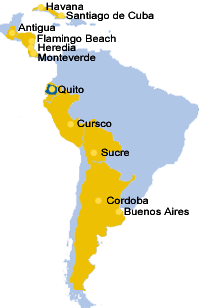 Ecuador is a very small and quiet country located in the pacific coast of South America with a population of more than 12.000.000 mostly mestizo and indigenous people. It is a country full of contrasts where its volcanoes combine their beauty with its wild forests by the Amazon River.

Ecuador is the safest and most pacific country in South America. It has mild climate and stable weather during all the year, which makes it a perfect place to learn Spanish and spend the vacations at the same time enjoying its people, countryside and culture.

Founded by Spaniards in 1534 who encountered a rich Inca culture, the capital of Ecuador is located at a high altitude and offers an extremely high quality of life and low cost of living.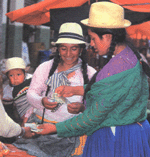 Divided into three modern, colonial center and
residential zones, it has more than 2.000.000 people and offers colonial cobble-stoned streets as well as a host of lovely plazas and churches. Enforex students will be able to take advantage of Quito's location to visit ancient ruins, traditional markets and lovely archaeological museums as well as take trips to the Galapagos Islands and neighboring Peru.



Quito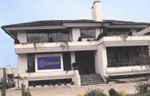 Our Spanish School is located in a lovely residential area of Quito, known as "El Batan." It is conveniently close to 6 bus lines, within a four-block distance of the school. Buses cost anywhere from 25 to 35 cents and taxis around 1 or 2 US$
for a typical fare. Quito is the capital of Ecuador and thus offers the best travel connections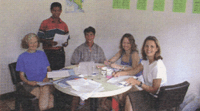 to anywhere within the country. A half hour flight to the East will take you to the Amazon Basin. A two and a half hour flight will take you to the Galapagos Islands, the site of Darwin's inspiration. Less than two hours to the north is Otavalo, South America's largest and most famous Indian Market. Follow the Panamanian Highway to the south, the former Royal Road of the Incas, and you will come to Cotopaxi National Park, site of the world's highest active volcano.


Programmes Offered
General Spanish Courses
20/30 lessons per week. Maximum class size: 5. The focus in class is mostly on grammar and conversation. Classes start Mondays year-round.

One on one lessons
The aim of this 20 lessons per week program is to offer a personalized method of teaching that is tailor made for the specific needs of the student. (private classes).
Activa Intensive Spanish
20 group lessons per week + 15 hours of activities
Accommodations
Homestays
Students are lodged in a private room with half board. Laundry facilities are available in the home or at local Laundromats. Most of the homes are located within a 15-25 minute bus ride from the school. All of the families are carefully selected. Most Buenos Aires families are young singles or couples, so students here should not expect a traditional host family experience.

Quito Excursions & Activities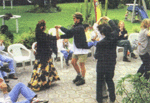 Dancing lessons, cooking classes, city tours, etc. Are arranged every week. Optional day trips to National Parks, Indian markets, bird watching and haciendas are usually scheduled on Thursdays for a nominal fee. Symphony, soccer or ballet tickets are easily purchased through the school. For additional trips the school works in cooperation with Metropolitan Touring the # 1 tour operator in Ecuador offering special
discounts in all their services for our students.