Designed for both Spanish and international students between 5 and 18 years of age, Enforex Summer Camps offer a unique, international environment. This international program provides an environment where learning a language...with 3 hours of either Spanish or English per day...and the inevitable cultural interchange enriches the experiences of each of our students. More than 60% of our students are Spanish.
Language classes, cultural and entertainment, excursions, sports, workshops, parties, barbecues, contests, cultural presentations 'Olympics' and other activities are offered with the idea of making the students' experience at Enforex camps unforgettable.
If you are between 15 and 18 and want to have an incredible summer practising Spanish or English and enjoying the freedom to choose the activities you wish to participate in, Enforex offers this new programme that provides a middle ground between our adult language schools and our summer camps.
Our students here have the opportunity to participate in a programme of study during the mornings – four daily Spanish lessons- along with our incredible activity options during the afternoons, led by our monitors, such as: excursions, activities, sports, cultural visits, beach and special permission for night time off-campus excursions.
For more information: Madrid Marbella Salamanca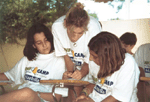 Following numerous petitions to our office, we have decided to follow your suggestions and open a new camp in Salamanca.
The program will take place last week of June and July in the amazing Colegio Calasanz, situated a few meters from the historic center of the city. Summer camp is available for students 5 to 18 years of age in the last week of June, 11 to 18 years of age in July. Spanish and international, will have the opportunity to discover one of the most beautiful and happy cities in Spain as well as its surroundings.
| | |
| --- | --- |
| | |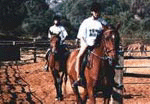 Sports have always occupied and continue to occupy a privileged place in our programs. In fact, our motto is: "Optima Secuor ludo et labore" (Towards perfection in study and sport). To support this, every fortnight we offer a great variety of sports to our students: Badminton, basketball, European football, handball, archery, aerobics, volleyball, etc.
For those students who wish to take up or improve their sportsmanship in a more specialized manner, we offer them the possibility of carrying out their dream taking classes in the most prestigious private schools in the region. Horseback riding, tennis, paddleball, golf and swimming are available.
For more information click here!
[
For more information, click here!
]
| | |
| --- | --- |
| | |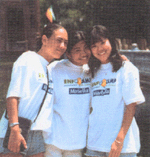 If you want to get to know young people from Spain and all over the world, we give you this opportunity, since it is precisely our international and multicultural atmosphere that makes our programs unique.
Year after year hundreds of Spanish students (60% of the participants) and students from other countries come to our programs with the desire to learn our language and culture as well as meet foreign students their age. The learning of a new language –English or Spanish- and the personal enrichment of each one of our students is achieved in a natural and continuous manner.
Our students will live together 24 hours a day with young people from Spain, the USA, England, Italy, Germany, Russia, Ireland, Canada, Belgium, Brazil, Japan, Austria, Holland, France, Poland and the Ukraine.
[ For more information, click here! ]
This program is designed for those students who wish to come and visit us a little bit earlier. It is exactly the same program as designed for July and August. It takes place in Marbella (Colegio Alboran) and in Salamanca. During this week, both camps will receive students from 5 to 18 years old. The dates are from June 27 to July 3rd. Day Camp, Mornings or Kindergarden programs are not available, only residential program. Bus service from and to Madrid will be also available during this week.