Castelfusano
Historically Castelfusano was an old hunting estate of the Chigi family situated just 25 km from the center of Rome and 1.3 km from the Roman coast.
The name derives from the magnificent baroque castle, frescoed by the famous Pietro Da Cortona in the 1620's, which lies in the midst of a centuries-old pinewood which is still owned by the same family.
Most of the land around the castle was taken away in the late 1930's. However 35 hectares around the castle are still privately owned and it is here that a member of the family decided to build a tourist village called Country Club Castelfusano.
Location
Castelfusano is located in the midst of a centuries-old Mediterranean pinewood just a stone's throw from the sea, in the heart of the Roman countryside and a few kilometres from Rome.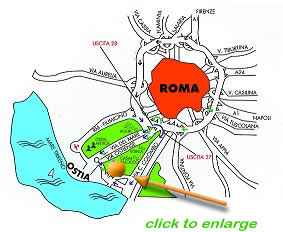 How to reach us
•Both from Fiumicino Airport ("Leonardo Da Vinci") and from Ciampino Airport a shuttle bus to the Country Club is available (fixed price).
•Students arriving at Roma Termini (the central station) have the choice between a shuttle bus which takes them to Castelfusano (fixed price) and public transport. If they choose the latter they need to take the underground (Metropolitana) Line B (direction Laurentina) to Magliana Station.
From Magliana, electric train to Colombo Station where a shuttle picks them up free of charge.
Connections
To Rome:

Free shuttle bus service (Monday to Friday) from the Country Club to the local train station and back (approximately 5 minutes). On weekends public buses are available to the local train station. From the local train station take the electric train direction Magliana (approximately 30 min.).
To Ostia Lido:
Free shuttle bus service (Monday to Friday) from the Country Club to the local beach and back. On weekends public buses are available.
Courses
Group
Courses are offered in June, July and August. Six levels are available, from absolute beginners to high intermediate. Advanced students can attend the school in Rome.
The maximum number of students per class is 15. Students who already know some Italian can enrol at times other than course-starting dates.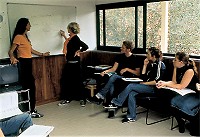 Classes are held from 9.00 a.m. to 1.00 p.m. from Monday to Friday. New courses start every 4 weeks. Each level lasts 4 weeks. Minimum attendance is 2 weeks.

Individual
Attendance is daily from Monday to Friday and varies from 3 to 6 hours a day. Minimum attendance is one week.

Combined
Students attend a group course in the mornings (4 hours/day) and individual tuition in the afternoons (2 hours/day).
Particularly suitable for those who need Italian both for general and specific purposes (dealing with specific topics in specific settings and/or other particular aspects of the language).
Accommodation

Situated in the Pinewood of Castelfusano, the village Country Club Castelfusano offers various types of accommodation, amidst a background of greenery and a stone's throw from the sea.

Standard

Single/double room in a farmhouse equipped with private wc, satellite TV, shower, refrigerator and hairdrier.

Standard Plus

Single/double room in Farmhouse equipped with private wc, air conditioning, shower, refrigerator, satellite TV and hairdrier.

Camping Plot

Camping plot for motocaravan or tent with electric and water supply. Close to the farmhouse a common kitchen is available for the students.

Social activities

The school organises a full and varied programme of social activities for the students (e.g. films, excursions, concerts, operas, guided tours, parties, etc...).

The teaching staff run the activities making sure that any language or other difficulties are taken care of.

A calendar of social events is given to each student on entry to the school.

All activities except dinners, excursions, operas and concerts are included in the enrolment fee.

All the equipment and social activities of the school in Rome remain at the disposal of students throughout the course.

Facilities

Reception with multilingual staff
Restaurant
Pub and TV room
Bar
Pizza hut
Minimarket
Bazaar
Laundrette
Games room
Internet points
Tennis courts
6-a-side football pitches
25 x 10 m. swimming pool
50 x 25 m. swimming pool (open from 1st July)
Free shuttle bus to/from local train station (Monday to Friday, 3 p.m. - 11 p.m.)
Live music
Disco

Sport

In the village there are two open-air swimming pools, one beach volley and four tennis courts which become 6-a-side football pitches. Bicycles are also available for rent.

In the proximity of the village:

Horse-back riding
Surfing
Canoing